With the upcoming blizzards supposedly sweeping the nation in a few days, I plan to take full advantage of the 50 and 60 degree weather over the weekend here in Colorado Springs. A good hike just might be what's needed for our family to get out before the weather shuts us in. While the warm weather dreaming continues, I'll leave you with a few sunny day pictures of my trip along the California coast this past summer. My sister and the kids and I flew into San Francisco, drove up to Sonoma to visit some friends (the rolling hills are a lovely brown while all the trees are all green), and back down HWY 1 through Morro Bay, Monterey, Carmel-by-the-Sea, Big Sur, Santa Barbara, and finally to Anaheim to stay for another 10 days at my Grandma's house. What a refreshing and exhausting trip!
Our lovely little yellow Airbnb in SanFrancisco.
If you get the chance to go to San Francisco, be sure to eat at the Outerbanks Restaurant. The cafe is beautiful, and the food surpassed expectations.
Of course ride the iconic Cable Cars!
Goodbye windy San Francisco!
Hello sunny Sonoma!
Friends in Sonoma. And an Interior Designer's dream home.
Half Moon Bay and the glorious Ritz. We got to witness a proposal there too!
The most beautiful ombre' flower . . .
The Bixby Creek Bridge.
McWay Falls . . . the water was a dream!
The Hermitage in Big Sur. I could be a monk in this place. Easy.
The road up to it was steep and scary, but it was worth the "monk on a hike while contemplating a butterfly" mug I purchased at the gift shop.
The elephant seal rookery. The most hilarious scene all week!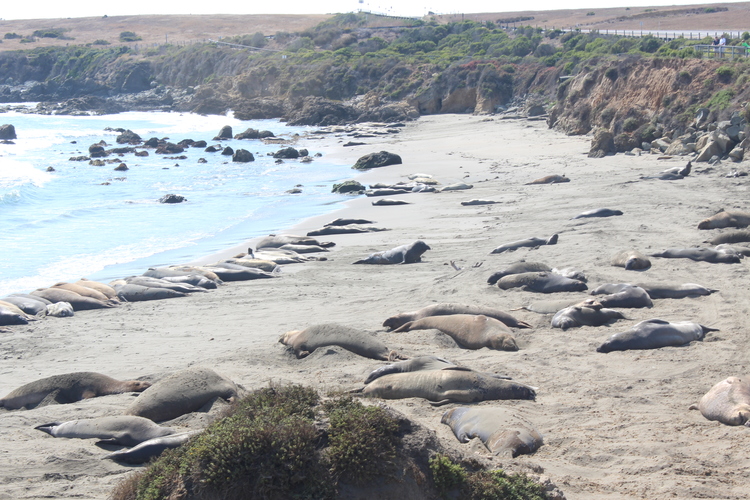 Santa Barbara and the lovely Belmond El Encanto resort.
Last stop, Anaheim. It was so good to sit around the table with these women every night.
And enjoy a brisk walk with my Aunt Becky . . . leaving the stragglers behind 🙂 I guess they did have to pull a wagon along.
We celebrated my first born's fourth birthday while there! I love summer birthdays as most of them are spent with family.